My name is Darryl Baker. I am a Republican candidate for Magistrate in the 5th District of Knox County. I have decided to run for the office of Magistrate because I think I have the ability to make more of a difference in Knox County than I already have.

I am happily married to Tonya Baker. I have two children (legally step-children), Brandon & Paige. But since I have been with them since ages 3 & 5, they are my children. I have been blessed to have a great family. My mother and father, Mary & Otis, have raised me to be respectful of others. My sisters, Debi & Kaye, are about the best sisters a middle child could ask for. It was nice to have smart sisters to fight with as I grew up. And now that I'm older, it's nice to have a great family to count on.

I believe in God! I am a member of Poplar Grove Baptist Church. As a child of God, I believe that everyone has a right to make their own personal choice and have their own beliefs. That doesn't mean I will always agree with them or that I might not try to change their beliefs. That means I will always treat them fairly and not judge others.

I own my own business. I started a sign & graphics business, 4ever Graphics, shortly after American Greetings closed and left many of us out of work. In 2004 I became the Sole Proprietor of the business that still fully supports my family.

Since 1986 I have been volunteering my time as a firefighter at West Knox Volunteer Fire Department. As a member of the fire department, I served as President of the board of directors for several years. I currently serve as the Chief of the fire department. This position is an elected position. The members of the fire department elect a Chief for a 5 year term. I have held the position since 2009. Being a member of West Knox has given me the satisfaction of helping many people from our community. More than half of my life has been spent being a volunteer firefighter. I would not trade the experiences I have had there for almost anything.

I have also recently become a volunteer for the American Red Cross. Through the Red Cross the fire department is continuing our effort to put a smoke detector in every home in our fire district. Our program is called "Give a Beep". You can read more about it here. www.giveabeep.com

In the effort to keep the story of my life short, I will say this about myself. I'm hard working and I don't have an ounce of quit in my blood. I have a lot of ideas about making Knox County better. I don't think my ideas are the only ideas. I think the county would be better served by the ideas of the citizens of the county instead of only the ideas of those that hang out at the courthouse. So if you have different ideas that you would like heard or if you would like to add onto my ideas, Please feel free to contact me and share!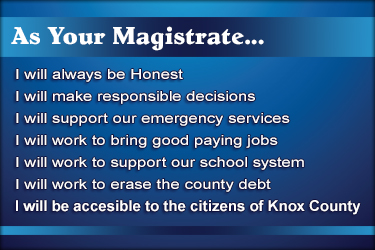 Important Issues

These are some of the issues that I am aware of. If you have other issues or thoughts on these, contact me at the number (call or text) or email above.
Jobs - We need to work toward bringing jobs to our area that have wages you can support a family on.
Occupational Tax - A solution to the occupational tax issue between Knox County and the City of Corbin must be found.
Hospital - The county needs to be out of the hospital business. Taxpayers do not need to be paying for a hospital. The hospital should be self sufficient and paying its fair share of taxes.
Emergency Services (Police, Fire, EMS) Our core emergency services must be supported financially. I've heard people complain because they had to wait on law enforcement or an ambulance. And they have the right to expect quick service from both. However, if they are only given the funding to have a skeleton crew, we can't expect more than we pay for.
Jail - This is one area that seems to be heading in the right direction. A new jail will be very beneficial to the county. I do have a new idea to share with Jailer Hammons that I think will benefit the whole county. And I will share that with her, win or lose.
Drug Abuse - Continues to be a problem. Despite the efforts of Unite and law enforcement the problem continues. I think the county needs to become more involved in the school systems to reach our children and change the cycle.
Animal Control - This office needs to be more readily available. It also needs to be expanded to address more issues than just cats or dogs. You ever come home and find a snake in your house? Guess who gets the call to come help? The fire department!
Education - The county needs to find ways to become more involved in the betterment of our school systems. WE, as a community, need to become more involved!